Painted Shaker Kitchen Grantham
Painted Shaker Kitchen Grantham: featuring solid wood-paneled doors for a sturdy, homely look, kitchen islands and curved units are also popular features with shaker kitchens. This particular kitchen featured below was in a busy family home in the village of Bottesford near Grantham and was transformed from an aging finish to a modern contemporary look by one of our bespoke kitchen painters.
Bespoke Kitchen Painters
Whether it's a contemporary style or a timeless classic, you can rest assured that Hand Painted Kitchens UK (HPKUK) are a handpicked team of skilled kitchen painters who create beautifully detailed hand painted kitchens and painted furniture for homes throughout the UK and Ireland.
Shaker Style History
A traditional, practical kitchen style originating in the 1700s within the Quaker community. A shaker door is a distinct style of panel door, taking its name from the shaker master craftsmen who originally created it. This ever-popular door styling is renowned for its timeless utilitarian design, featuring simple yet functional lines and beautifully crafted joinery. Developed by the United Society of Believers in Christ's Second Appearing, commonly known as Shakers, a religious sect that had guiding principles of simplicity, utility and honesty. Their beliefs were reflected in the well-made furniture of minimalist designs. (Wikipedia)
The kitchen painting project
The client had decided on a Farrow & Ball Colour (French Gray 18) for this painted shaker kitchen Grantham which was mixed into an equivalent colour through our specialist paint system.
The waterborne acrylic paint system we use is quick drying and once fully cured, very durable, wipe-able and hard wearing. Ideal for a household such as this with two very young children and sticky fingers!
Replacing handles and knobs
With a painted kitchen makeover like this, we often get asked to replace the existing handles for a new style, this can also make a big difference. The new hardware does not necessarily need to be like for like, as the existing holes can be filled and new holes re-drilled for the new hardware. In this case the client opted to replace with classy curved handle on the doors and chrome cup handles on the draws.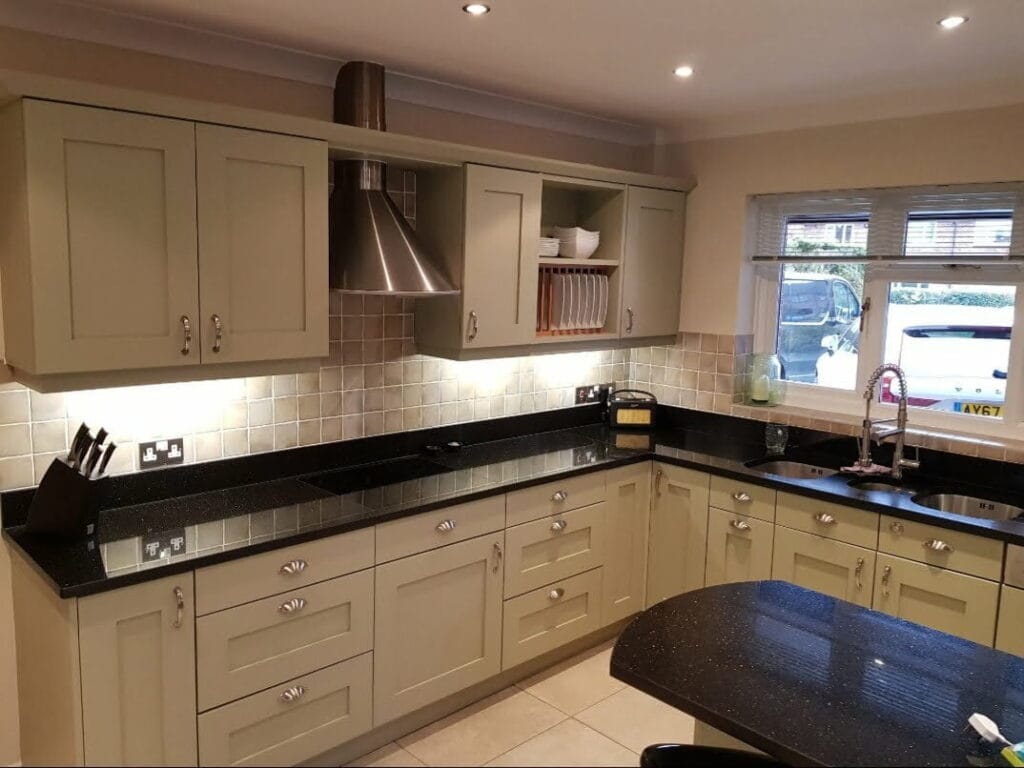 What the client had to say
I would highly recommend Russ at HPKUK to anyone who is considering having their kitchen units painted. He has an incredible attention to detail and takes great pride in his craftsmanship. Russ and Ian were both extreamly polite and although a lot of the time I had to be around with my 15 month old, we were not made to feel in the least that we were in the way. The ensured the job was carried out to the highest of standard with the least amount of disruption possible. Our kitchen now looks brand new, well worth every penny!

Jessica Akers
Bespoke designed to individual client needs and aspirations, no two hand painted kitchens or pieces of painted furniture from HPKUK are ever the same. Always tailored to the personal tastes and lifestyle of each client. Yet the end result is always the same: an exquisite hand painted wooden kitchen that is both functional and stylish.
Painted shaker kitchen Gratham by Russ Pike
HPKUK is a registered Trademark – t//a Hand Painted Kitchens UK