Painted Kitchen Surrey
Painted kitchen Surrey by our specialist hand painter Nicola. This project was in Haslemere, Surrey and a great example of how a dated wooden kitchen can be transformed into a beautiful show piece, unique to you and tailored to your taste. By employing the skills of a specialist kitchen painter, you can utilise their expertise, knowledge and experience.
Our expert kitchen painters take every project from concept to completion to the highest of standards, working with you to ensure that no detail is overlooked and that your finished painted kitchen Surrey is everything that you desired. This 15 year old pine kitchen was hand painted by Nicola using a quality paint system. The colour is the equivalent match to Farrow & Ball 'Elephants Breath' with a 30% mid sheen. The paint is very durable and will last for many years to come.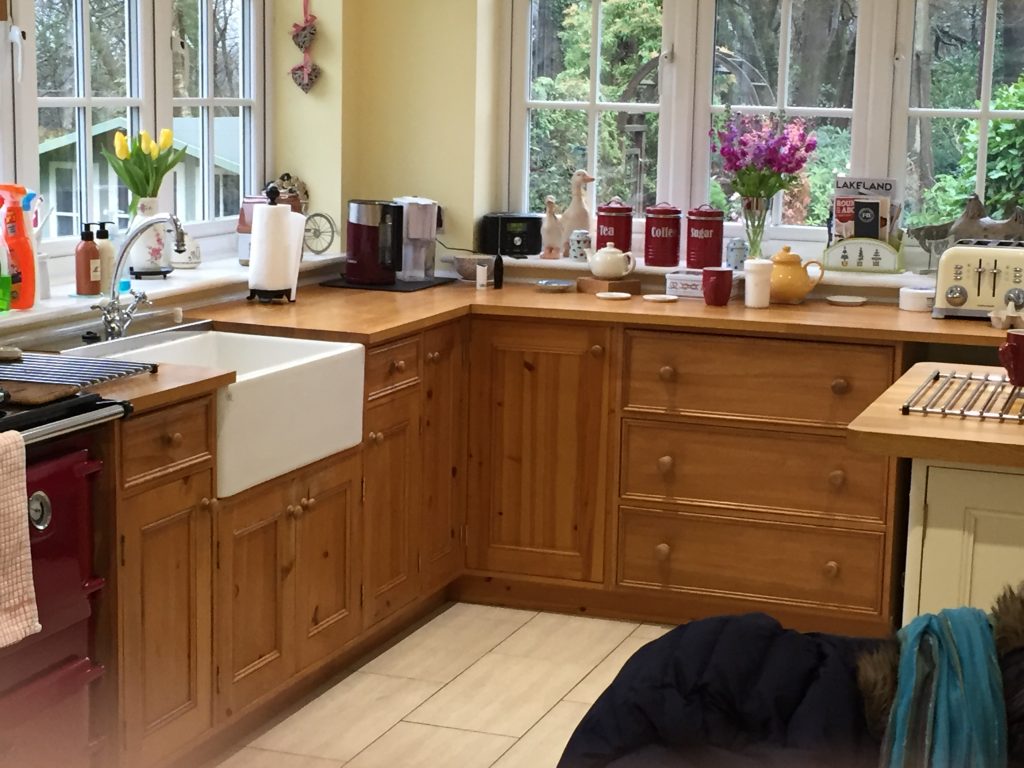 Years of expertise, combined with the best kitchen painting skills and techniques, means that Nicola can paint over any kitchen cupboard and kitchen cabinet material or finish including wood, MDF, pre-painted, vinyl wrapped, lacquer, varnish and factory sprayed.
Painted Kitchen Surrey|The Process
When hand painting a kitchen, the project begins on site by covering every inch of surface that surrounds your kitchen cabinets to protect everything nearby including worktops, flooring and appliances. All kitchen cabinet surfaces that are to be painted or sprayed are then given a deep clean on both sides and covered with a high adhesion grip primer. This process is very thorough and meticulous to ensure all the surfaces have been prepared correctly to receive the final coats of our specialist paint system.
Quoting For Your Project
Our expert kitchen painters work with you to understand your requirements and what you're looking to achieve in your newly painted kitchen, such as the desired style, colour and finish. Taking into consideration the size of your kitchen including the number of doors, as well as their material, they will provide a quote based on the scope of work to be completed.
A Commitment To You
Every member of Hand Painted Kitchens UK (HPKUK) shares the same philosophy of taking tired looking wooden kitchens and transforming them back into stunning, showroom quality and functional centre pieces that sit at the heart of the home.
All are dedicated to ensuring that every hand painted kitchen or sprayed kitchen they create is never anything short of exceptional, working together with clients until they are completely satisfied that their dream kitchen vision has been achieved.
HPKUK is a registered trademark and the sign of quality painted kitchens by experts. Nicola represents Hand Painted Kitchens UK throughout Surrey. If you are considering giving your existing kitchen a new lease of life or have a project in the pipeline for a new hand painted kitchen CONTACT US for an initial online quotation or request a call back to discuss with our specialist kitchen painters.
Painted Kitchen Surrey